A Monthly Newsletter from the Centre for Academic and Faculty Enrichment
E-mail not displaying correctly? View it in your browser.
CAFE MONTHLY
Faculty Spotlight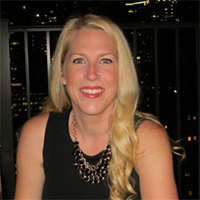 Amanda Cannon, who works in the School of Justice and Emergency Services, found the inspiration to teach in an unlikely place: while working in the field of emergency communications.

Cannon is a professor and Program Coordinator for the 911 Emergency and Call Centre Communications program. She is a graduate of the program (class of 2011) where she went on to work as an emergency dispatcher at the Oshawa Fire Department.
Cannon says her professors at DC inspired her to become an APCO Institute Instructor in Safety Telecommunications, Fire Service Communications and Emergency Medical Dispatch.
It was when she began to train other employees as an emergency dispatcher that really sparked her interest in teaching. However, she knew she had more to learn.
"I enjoyed teaching so much but quickly realized how much technology and the classroom had changed since I had originally been in school, so I decided to learn more about it," Cannon explains. "While working full-time at [the fire department] and teaching part-time at the college, I returned to school full-time to first obtain a Bachelor of Arts (BA) in Educational Studies and Digital Technology at UOIT specializing in Adult Education. Then, I went on to complete a Master of Education (MEd)."
Cannon's dedication to developing her tech skills paid off when she began working full-time for at DC. She says working with her students ignited a new passion for adult education in a digital age.
Available Now: New Course Exemplar!
To continue supporting faculty, the CAFE is launching a new DC Connect course exemplar. Built on the DC Connect template, we've developed one online module that illustrates what a week could look like with course materials and activities.
To check out the exemplar:
A call-out to faculty:
Are you willing to share one week of your online modules? We're looking to include examples of online modules presented in different formats!
Please contact Tanya.Wakelin@durhamcollege.ca
DC Connect Video Assignment Tool
A new option for creating video assignments for your students
The DC Connect Video Assignment Tool allows learners to respond to course materials or complete presentations remotely and asynchronously. Video Assignments may be used to conduct individual presentations, mock job interviews, demonstration of skills and peer-to-peer collaboration. Faculty can replicate assignments that they would normally conduct in-person, and even include an option for peer review!
There are four different types of video assignments:
Individual video assignments

Students can record or upload a video.

Examples include presentations (e.g., a business pitch) and/or other skill demonstrations
Question and answer video assignments

Students are provided with questions and given time to respond.

Examples include mock interviews, oral quizzes, or skill demonstrations
Group video assignments

Students work in groups to submit a group presentation. Students can set milestones, have meetings and upload videos.

Examples include capstone projects or group presentations
Interactive video assignments

Students watch a video with prompts throughout the video and respond to prompts, either in a video response or through multiple-choice questions.

Examples include situational analyses: "why did...", and "what would you do..."
After students complete video assignments, they can submit their videos for review and grading to the faculty. This tool connects with the gradebook.
The steps for creating video assignments are available on the CAFE website.
Did you know we have student resources on how to use Video Assignments? Check out our student resources on our website.
WebCOT Updates: Live on April 15th
We have made some improvements to the Course Outline Tool (WebCOT) for this spring 2020 as part of our commitment to continuous improvement in quality assurance.
We reviewed feedback from faculty and other stakeholders and worked to explain instructions and resources to allow usability to be increased and to better support faculty in developing course outlines.
These are the changes in the outline tool:
Updated Instructions – Instructions, tip sheets and videos to assist the faculty in completing the sections will be revised by April 17, 2020.
Added the drop-down menu 'Evaluation Categories' in the Evaluation section – These selections then appear in the Learning Plan as pop-up check boxes. This provides students with consistency of evaluation criteria, clear language, an equivalence structure and increased successful curriculum mapping.
The course outline lists relevant Program Learning Outcomes (PLOs) to which the course contributes – Included in the course outline, lists the PLO's under the course information to which the course contributes were defined during the revised CPR curriculum of the program. This addresses College Quality Assurance Audit Process (CQAAP) commitment.
Prepopulated Ontario Qualifications Framework (OQF) table for degree course outlines – Read-only data for OQF table for degree course outlines. This complies with the approval of the Ministry.
Commonly asked question:
One of the common questions we've seen is around the interaction of Section VII and Section XII. If you do not complete the Evaluation Column of Section VII, nothing will appear when you attempt to update the Evaluation field in Section XII. This new video provides step-by-step instructions on how to complete Section VII: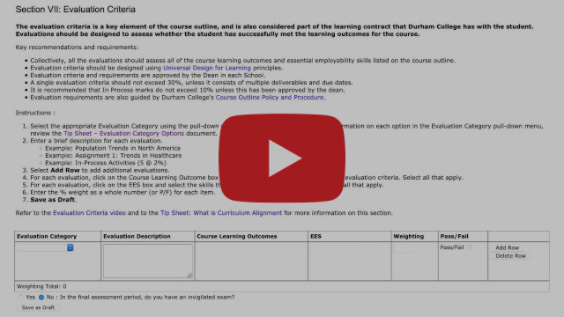 The new interaction of Section VII and the Section XII is also accompanied by warning messages when the learning plan is reviewed, or the outline submitted for review. Each empty Evaluation field in Section XII is flagged as a warning, the wording of which implies it must have information. However, the outline will successfully submit for review when the warning is ignored.
For more WebCOT resources please visit: https://durhamcollege.ca/cafe/educational-tech/course-outlines/
New resource: Sage Business Cases
Sage Business Cases brings together more than 3,600 curated cases selected from a variety of sources, including key university and association partnerships, to meet the needs of business faculty and students internationally. These cases cover in-demand subjects such as entrepreneurship, accounting, healthcare management, leadership, social enterprise, and more. Engage your students in applying core concepts to practice through the use of examples from the global business environment.
The resource also comes with teaching notes – for information about how to access case teaching notes, please contact Fiona Munroe, Business Librarian Fiona.munroe@dc-uoit.ca.
Monthly PD Opportunities
Make sure to check out our webpage in the coming week as we will continue to update you with new weekly PD sessions. The schedule will be refreshed every Friday for the following week!
Did you hear? We're launching a new PD series this month! It will be facilitated as an asynchronous course with synchronous elements. Faculty may choose the option that best suits their requirements. The series will apply evidence-based principles to support student learning. Online teaching strategies including discussion facilitation, learner-focused feedback, and formative and summative assessments will be covered.
Faculty may work along with their own courses in the series or choose to join specific sessions based on their needs. More details will be shared soon!