A Monthly Newsletter from the Centre for Academic and Faculty Enrichment
E-mail not displaying correctly? View it in your browser.
The CAFE would like to celebrate and acknowledge our faculty's creativity, dedication, and hard work in converting their courses online!
In the spirit of maintaining some normalcy, we're releasing April's CAFE Monthly newsletter. This month features an announcement for a new annotations tool in DC Connect that can help save time when grading remotely, a faculty's perspective on hosting classes with Microsoft Teams, a student's experience with the Virtual Classroom and our Faculty Spotlight featuring Nathan Wilson!
Faculty Spotlight – Nathan Wilson,
a teacher of many disciplines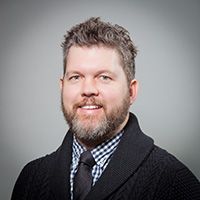 Nathan Wilson is a full-time faculty in the School of Interdisciplinary Studies. He is the coordinator of the General Arts and Science (GAS) program. In addition to teaching courses in GAS, he also teaches communications and general education courses as well as courses in the Pre-Health program.
Wilson jokes with his friends that he is simply a teacher of "stuff."
Wilson's educational background began when he earned a Bachelor of Journalism from Carleton University, double majoring in journalism and history. He continued his education at Dalhousie University where he completed a Master's degree in 20th Century European History, focusing on Germany. In addition to teaching full time, he is currently completing a PhD in History at York University. "My work looks at the legacy of World War II and the Holocaust and how memories of those events informed later social movements in both the US and West Germany," Wilson explains.
"I happen to apply for teaching at Durham College, because I wished to gain more experience in the post-secondary sector, not just the university system," says Wilson. "Kevin Baker and Bev Neblett, who were the Dean and Associate Dean of the School of IS at the time, threw me a bone. They gave me a shot and allowed me to get my feet wet with college teaching."
Wilson says he was impressed by the emphasis DC placed on student success, on top of the supports for faculty and students alike, such as the CAFE and SALS.
Today, he teaches various courses across multiple disciplines and says he not only enjoys his job, but actively works to keep his curriculum innovative for his wide variety of students.
"I feel fortunate that my courses allow me to engage with so many different students – it's never dull and I learn so much about the college and what folks are doing here in the process," says Wilson. "In terms of keeping things innovative, I try to engage students in a variety of ways. In Human Relations, for example, I deploy a range of active learning strategies such as one-minute papers, think-pair-shares, in-class case studies, role-play scenarios, debates, concept mapping and self-assessments."
Next year, Wilson says the General Arts and Science program is undergoing a comprehensive review, which could see new changes on the horizon.
"This is a systematic assessment of the program that only occurs every five to seven years. The CAFE helps to facilitate this process," says Wilson. "The conclusions drawn from this process lead to recommendations for improvement. It's pretty extensive and should yield some interesting results. The last time that we did this, GAS and Pre-Health were the same program so a lot has changed."
While things may change for Wilson and the program in the future, one thing remains the same: his passion for his job and his students.
"Every group is different. I find it challenging and exciting. I thoroughly enjoy our discussions. It sounds cliché but I learn so much from engaging with students," he says. "I hope all students enjoy their time at the college. I hope they find value in what they do, here and in the future. I wish all of them nothing but success."
Written By: Jacklynne Graves, Third Year , Journalism – Mass Media Student
New tool alert!
Annotations within DC Connect
In DC Connect, faculty can now provide feedback to their students directly in electronically submitted assignments without having to download anything by using the new annotations tool. This allows faculty to provide feedback to students on their assignments as naturally as they would in-person. There's no need to print a copy of an assignment or provide any written feedback! To learn more, please visit our resource page on annotations.
Education Remotely – Using Microsoft Teams to Conduct Online Classes
Professors are learning to use new tools and strategies as they make the switch from face-to-face teaching to online delivery.
Kevin Griffin teaches a paramedic leadership course and also works in DC's Centre for Academic and Faculty Enrichment. He began using Microsoft Teams earlier in the semester and says it's a vital tool now more than ever.
"I decided to commit to it and have actually transitioned online. That class has actually been really easy because the students were already all in [Teams] and they were already using it," says Griffin. "So, I used it for the week-to-week, in-class activities."
Griffin says while DC Connect is a great platform, MS Teams is great for facilitating group work and collaboration.
Microsoft Teams is available through Microsoft 365, and is a communication and collaboration application that enables live chatting, video conferencing, file sharing and more. Griffin explains exactly how he directed his class to participate in a group project from home.
"There was a case study they had to read. There were some guiding questions that they had to answer," Griffin explains. "When we started the session, I was running a meeting using the 'Meet Now' option. Once I framed what they were responsible for doing, I sent them over to their individual groups."
Griffin says only students assigned to certain groups are able access the content. He adds he has admin capabilities and could enter each group to see if students had any questions or needed support.
Beyond being a useful tool in the current climate surrounding COVID-19 and social distancing, Griffin points out that Microsoft Teams can be used even when classes resume. He says it would be a great way for students unable to attend class to continue to participate.
He describes how he uses Teams as a tool to provide in-process grades. "The theory behind in-process marks, I'm okay with," says Griffin. "I don't want to give someone marks purely for attending my class. I want them to come in and demonstrate that they've learned something or have engaged with it <the course content>."
Griffin says applications like Microsoft Teams would enable students to continue to work to achieve their marks even if they aren't present. He says that with Teams, he'll be able to encourage interactivity on a weekly basis. The tool allows him to track participation within the application.
Microsoft Teams not only is proving to be a useful tool for Griffin, but the CAFE also has uses it to continue their operations remotely. It's something Griffin says he hopes fellow faculty and professors consider using it in the future.
"Because Teams came to us mid-semester, you didn't have that opportunity for people to kind of look and explore it," says Griffin. "This unique situation has pushed us to make decisions and move forward faster than what people are used to so now you're seeing people starting to say: 'OK, maybe Teams is a good option'."
Want more information on MS Teams? Check out our resources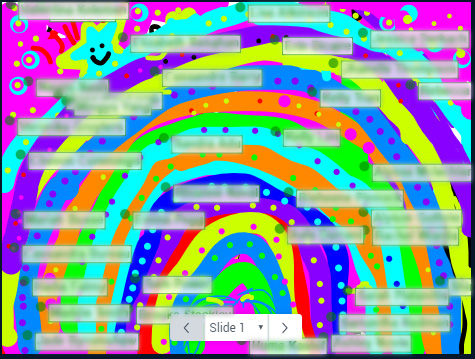 What it was like being in the Virtual Classroom – a student perspective
The CAFE is comprised of many talented team members but did you know we also have work-study students as well?
Many of our offices here at DC offer opportunities for students to work and gain valuable experience within the college. One such work-study student includes me, the writer of this article.
My title here at the CAFE is "Digital Content Developer," which means if newsletters and/or training materials need to be written, it's my job to do that.
Despite having a pretty cool job, I am still 100 per cent a full-time student. As such, I, too, am being impacted by the state of the COVID-19 pandemic, which has not only forced me to work for the CAFE remotely, but now all my classes are remote too.
I was slightly concerned by the idea of having to work completely online, seeing as how my program, Journalism – Mass Media, is hands-on and requires a lot of collaboration. All of our final projects require us to work as a team, which is more daunting if you're doing it from a distance.
That's where applications such as Bongo's Virtual Classroom come in. If you've seen our new support page, then you would have seen that the Virtual Classroom is a new built-in app within DC Connect that allows faculty to host virtual classrooms from anywhere.
The virtual classroom can be fully visual – allowing the professor to share their screen so you're able to view a slideshow lecture. While this is happening, your professor and your classmates can share audio and video materials so you can see and talk to each other during the lesson. This makes collaboration and discussion easier.
I was able to support my classmates ahead of time as I worked on a tutorial on how to join a class meeting using the Virtual Classroom. So, when it came time for my professor to host our first class, we were prepared.
Joining is easy and so is enabling your microphone and camera. You're prompted right away as soon as you join the class to activate your mic and then the video option is in the bottom left.
Once everyone joins, your professor begins your lecture and can show you a lesson/slideshow in real time. The Virtual Classroom also features multi-user mode which allows for students to participate in the class.
It was extremely easy for me and my classmates – but we aren't the only ones who share that sentiment.
One of my professors, Anne Marie Jackson, is a new part-time faculty member teaching Advanced Reporting and Visual Media VI in Journalism – Mass Media program. She found Bongo's Virtual Classroom bridged the gap between her and her students.
"Bongo was an essential tool to bring my virtual classroom to life," says Jackson. "Bongo was simple to use, highly effective and provided a unique collaborative experience."
The virtual Classroom on DC Connect definitely has my student stamp of approval and I am excited to how else we can utilize it for education in the future.
Want more information on the Virtual Classroom? Check out our resources
Written By: Jacklynne Graves, Third Year , Journalism – Mass Media Student
Virtual Experiential Learning
Faculty Shout-Out
Shout out to faculty members Sheldon Koufman (BITM) and Linda Cheng (MAD) and field placement officer Elizabeth Campbell (BITM) for adapting quickly to online delivery and leading a new approach to work-integrated learning at DC—virtual field placements. Using Riipen, a cloud-based experiential learning platform, this team has created virtual field placement opportunities for Business Administration – Marketing and Contemporary Web Design students. Sheldon's Marketing placement course page was recently highlighted by Riipen as an exemplary use of the platform for virtual internship during a webinar attended by over 200 participants from other colleges across Canada.
View the full recording of the webinar: Virtual Internships on Riipen
Riipen integration is coming soon to DC Connect (check back with CAFE for more information). If you're interested in learning more about Riipen, please contact Amanda Brown, manager of experiential learning (amanda.brown@durhamcollege.ca).
Library Spotlight
Resource: The Learning Portal: How to Cite module
Provide your students with a module on how to cite, with a 10-question quiz, directly imported into DC Connect.
Access this and other LMS integration cartridges on the Faculty Toolkit section of The Learning Portal.
Resource: The Learning Portal: Study Skills modules
The Learning Portal includes study skills modules that are easily integrated into DC Connect, including time management, studying, stress management, note taking, and presentation skills. Each module includes a short quiz. Use them all or select what your students need.
Monthly PD Opportunities
Make sure to check out our webpage in the coming week as we will continue to update you with new weekly PD sessions. The schedule will be refreshed every Friday for the following week!